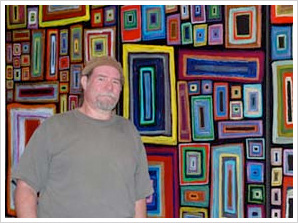 Steve Scroggins is an award winning, internationally collected Artist working in a wide variety of materials including Oil, Acrylic, Watercolor, Mixed Media, Collage/Assemblage, Photography and Ceramics. His experience includes Art Instructor, Television Producer, Radio Commentator, Pastor, Poet, Landscape Designer, Lyricist and Musician. He is a member of the Clay Arts Guild of North Idaho (CAGNI) and the Arts & Cultural Alliance of Coeur d'Alene.

Steve was born 1950 in Indianapolis, Indiana and raised his early years by maternal grandparents. His Grandfather was a hillbilly from Kentucky who could not read or write yet has proven to be the wisest man Steve has ever known. His Grandmother was a kind and vibrant Cherokee.

With great pride his Grandfather taught Steve the difference between tools and toys. Together they spent many precious hours on the back porch "whittling" and practicing the basic skills of sculpture. His Grandfather worked as a Machinist but for extra money installed Wall Paper. As a young boy Steve would accompany his Grandfather on weekends and helped paste and hang these Walls of Paper. This experience instilled in the Artist an instinctive ability to work with Collage and Assemblage and a natural inclination to create art on a monumental scale.

His Grandmother shared her love of flora with the young boy as they worked together tending the array of beautiful flowers that encircled their small rural backyard. The bright colors and tempting textures are still emblazoned on his heart and mind and often become integral parts of his paintings. Grandmother also taught him to cook, she would say, "Stevie, if it looks good, it tastes better!" The Artist has enjoyed applying that concept to many aspects of his life.

At the age of nine Steve received his first camera, a Kodak Brownie, and continues to this day as an avid photographer. By his teens he began working in collage, writing poetry, painting with watercolors and working in clay creating hand built objects. In his early twenties, after returning state side from a tour of duty in the Orient with the USAF, the Artist began to explore Kinetic Sculpture in the Calder Style. He went on to study Ornamental Horticulture, Fine Art, Theology, Music and Graphic Design yet believes Life continues to be his best teacher.
For a private showing of the Artists' work contact "Steven A. Scroggins Fine Art"
PO Box 1164 Coeur d'Alene Idaho 83816 - 208-659-8332